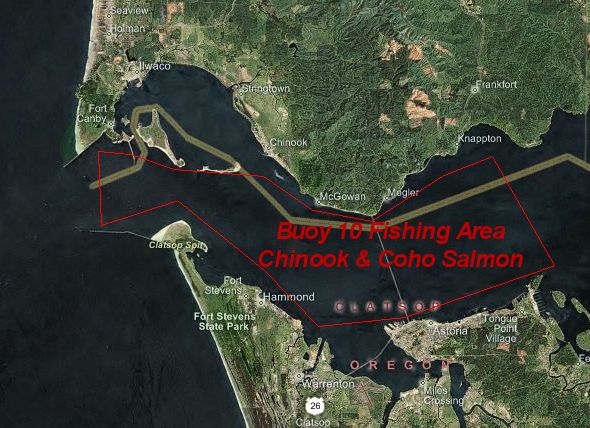 Astoria, Oregon Hotels
Comfort Suites

3420 Leif Erickson Dr. Astoria, OR 97103

Phone: (503) 325-2000
Holiday Inn Express

204 WEST MARINE DR.
ASTORIA, OR 97103
Phone: (503) 325-6222
Shilo Inn

1609 East Harbor Drive
Warrenton, OR 97146

Phone (503) 861-2181

Driving Directions to West Mooring Basin Moorage Behind what used to be Red Lion Inn
The marina is now charging $10 per vehicle for parking. Please make sure you pay.
Turn at the Kentucky Fried Chicken, go one block and cross over the trolley/train tracks and take a left into the parking lot. Park your vehicle in the parking lot near the red building that has the boats behind it, or in the adjacent parking lot near the espresso stand.
The interactive map below should be able to get you step by step directions to this location if not then please visit Google Maps Here and use the address:
55 Basin Street Astoria Oregon 97103 for the destination location.
If you have any questions call us on the phone. Kevin or Chris 503-501-2424 or Lacey 360-560-5992.
Please bring:
Your lunch, and beverages.

Camera to capture the moment.

Large cooler or container to take your filleted fish home in.

Required license and tags. License needs to include Columbia Basin Endorsement. (If you don't have a fishing license you can purchase an Oregon day license online HERE)

Rain gear (coat, pants & waterproof shoes)

Sunscreen and sunglasses.
Kevin M. Newell and Lacey DeWeert
E-mail or call if you have any questions at all!
Kevin Cell 360-430-2521
Lacey Cell 360 560 5992
info@totalfisherman.com
lacey@totalfisherman.com EST.

Total Fisherman Philosophy

2000
We believe that:
Spending your life doing something you love is the secret to happiness.
Attention to detail and being absolutely driven, catches fish and creates success.
A focused effort catches more fish and bigger fish. Just going through the motions is for other people.
Spending extra time and effort toward making your day successful is important and makes a difference.
We believe that cutting corners on expenses and effort isn't something you do, even if nobody else will know.
We believe we should expect the most from every day on the water and hold ourselves to a higher standard.
We should give back as much and as often as we possibly can.
It's our job to act as stewards of the resource and as consummate professionals who know that our actions speak louder then words.
Giving 100% every day is the norm, because Buoy 10 or Estuary sturgeon or whatever season we happen to be in only comes around once a year, and in a few weeks it will be over. Let's be realistic ... every one of us has to have a last day on the water. We never know when that day will come, so we are absolutely going to make every day our best day.
We don't have gimmicks like "Fish Catch Guarantees". We won't tell you that we're catching 50 pound salmon every week, or tell you the fishing is red hot when it's not, or any of the other assorted things that guides tell prospective clients to get them on their boats. We're honest and we have integrity.
We provide high quality fishing trips at the median price for guides in the NW. We could charge more or we could charge less, but we don't want you to come fishing with us because your decision is based on price. We want you to come fishing with us because you think we run a first class operation, that we are going to treat you well, and because we catch fish.
We're not the Dollar Store of fishing guides and we certainly aren't the Four Seasons. Our pricing is middle of the road. We believe in charging enough so that we can use high quality equipment, maintain this equipment, and not have to cut corners. We also believe that charging the average price will hopefully allow you to come back more often.
We really take fishing seriously, it's our passion and we certainly want to catch fish just as much as you do; that's why we go during the best times to the best locations and spend extra time, effort, and money to make your trip the best that it can be. We want you to have a successful trip so you come back fishing with us, we also want to be successful so we maintain our reputation as top notch guides.
We take a lot of pride in our fish catching ability and we do everything in our power to put fish in the box, while at the same time having fun, and keeping you safe.
Our approach to life and to fishing isn't standard, and it would certainly be "easier" for us if we weren't worried about these things, but the easy route and the safe bet aren't what we're after. We care about you and we care about your experience on our boats.
We believe our customers, peers and fellow fishermen know that we hold this philosophy close to our hearts and that they know we are out there every day living it. We believe it's important to not let them down.
Kevin, Lacey, Chris & the whole Total Fisherman crew!
Kevin Newell & Lacey DeWeert - Team Total Fisherman