Currently fishing Tillamook Bay for HUGE Chinook Salmon! Come join me, we are experiencing some great fishing! Chinook salmon fishing will remain good through November!
11-08 2005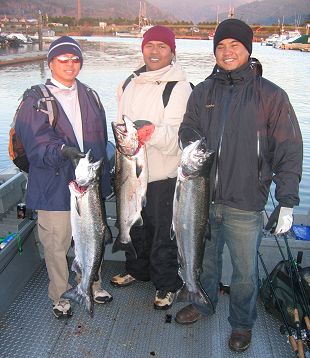 All the way from Hawaii just to catch some fish!? And Tillamook Bay didn't let them down! We caught these 3 and a beautiful wild Coho that was released to go do it's thing up in one of the rivers.
Steve, John & Layton! Thanks for the fun! Enjoy the fish! ALL of it! :-)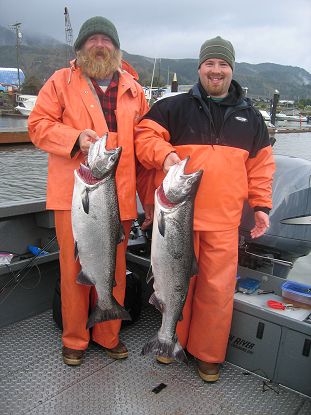 Scotty and Erik with twin 22 pound Tillamook Bay Chinook! I always love fishing with you guys! I'm looking forward to seeing you whoop up on some sturgeon in the spring! Take care!
10-31 2005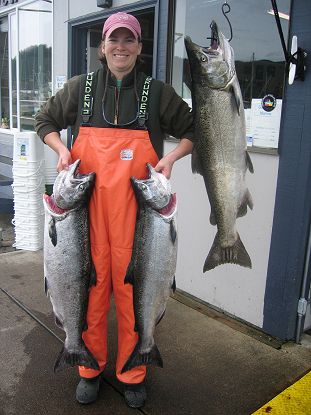 Fall Chinook salmon fishing in the Tillamook area is just ramping up! 3 fish out of a 6 fish day!
Hooked 6, landed 6 and off the water by noon!
10-28 2005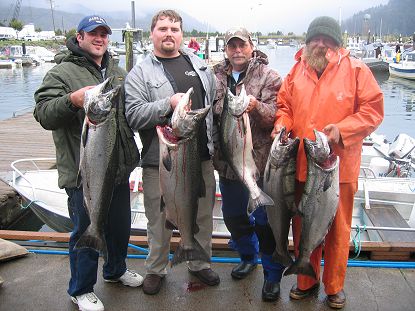 Guys thanks for the great day of fishing on Tillamook Bay! I'm looking forward to doing it again!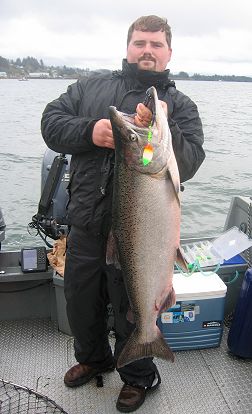 A 35 pound Tillamook Bay Chinook!
Even the guide gets one sometimes! A 30 pound chrome bright Tillamook Chinook!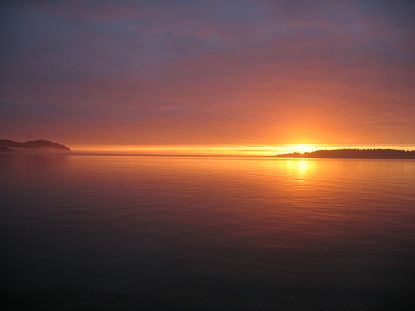 Tillamook Bay sunset! There is no prettier place than the northern Oregon coast in the fall!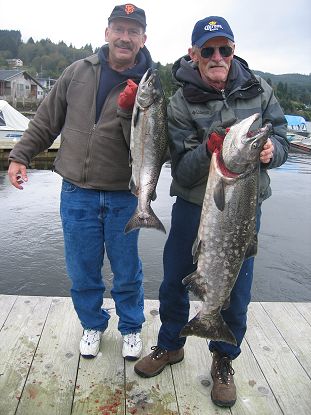 David and Gordon with some Nehalem Bay Kings! (spotted from ice in the cooler!)
10-26 2005
One fine day on Tillamook Bay ...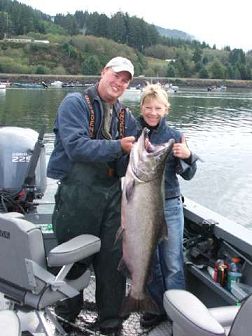 Laurie and her 35 pound Tillamook Hog!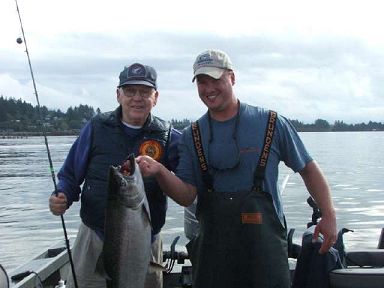 Mr. Patterson with a beautiful chrome bright Chinook!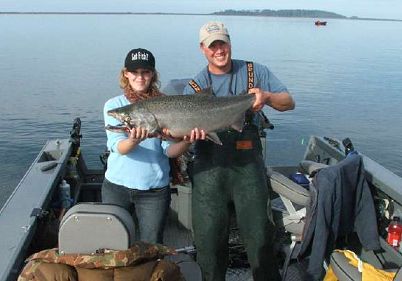 Abbie with her first salmon! A 22 pounder!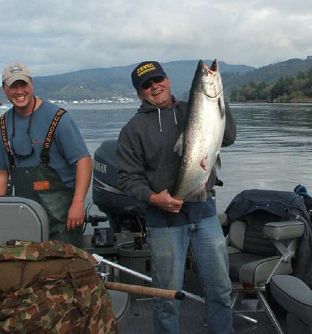 John hamming it up!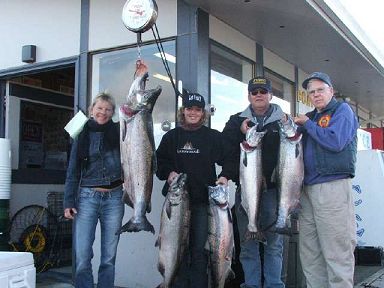 Another great day of Tillamook Bay fishing! The fishing is just going to get better as we move into November!
10-12 2005
The guys from Ft. Lewis put a hurtin' on the salmon! Thanks guys! I'm looking forward to doing it again soon!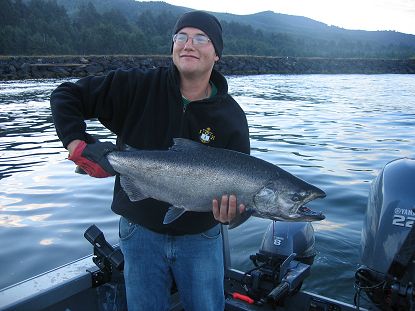 10-6 2005
Great fishing is happening now! Don't miss it! We're catching nice fish on every trip!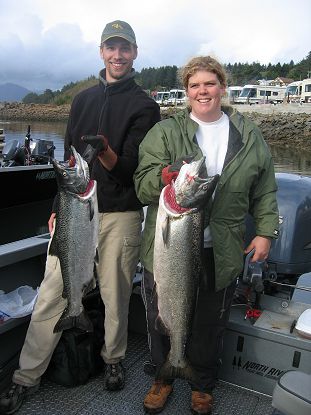 A fly caught Chinook from a beautiful Washington river!
We were the only boat on the river all day! Talk about solitude!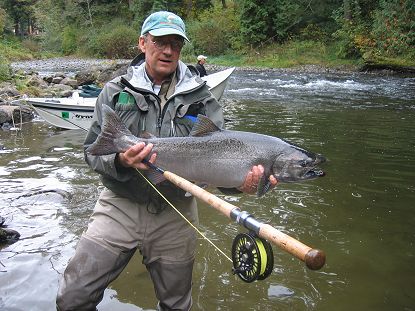 9-22 2005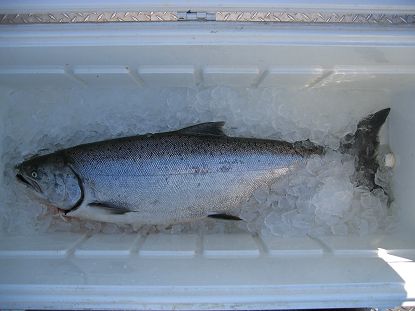 I like my salmon on the rocks ... bonked ... not stirred!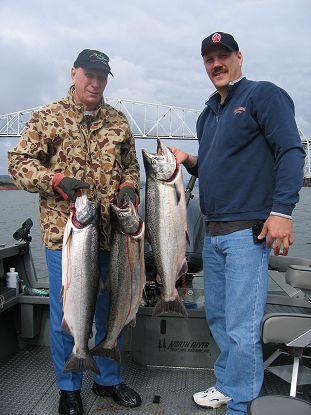 A Columbia River limit plus one from the guide!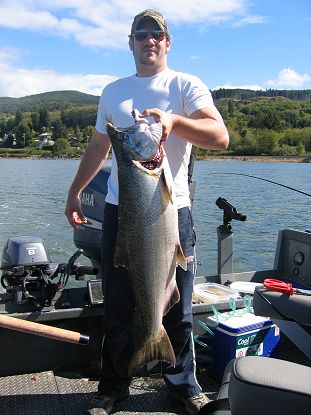 A beautiful 28 pound Nehalem Bay King! Good job Mr. Durga on your first salmon!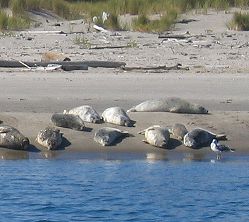 Some Nehalem Bay locals enjoying the late summer sun!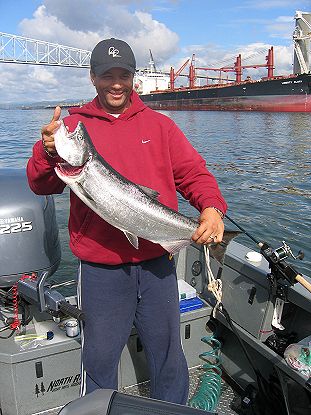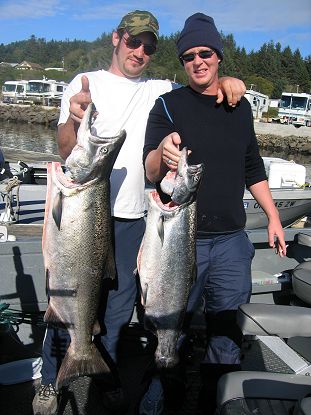 Guys I'm looking forward to fishing with you again! Thanks for the great time!!!
9-10 2005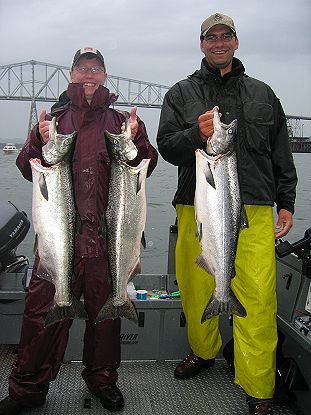 Chinook Salmon fishing on the Columbia is HOT right now and it should continue for the next couple of weeks. I still have some days open so give me a call or drop me an email and let's talk fishing!
9-9 2005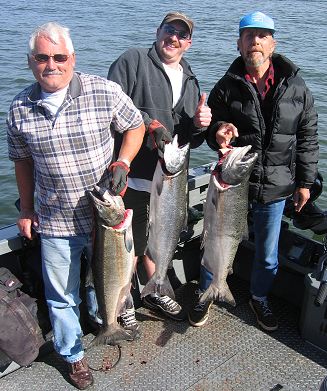 Columbia River Chinook Salmon! It doesn't get any better than this!
Mike, Nate, Rodger! Thanks guys for the fun day! I always look forward to fishing with you! Enjoy the fish!