Fishing Reports, Tips, Techniques & the latest news!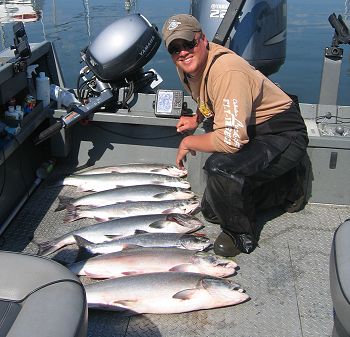 Hi! We're Kevin Newell & Lacey Deweert, and we are looking forward to spending a day on the water with you! All of us here at Total Fisherman Guide Service are state licensed and Coast Guard certified professional fishing guides.
Total Fisherman Guide Service has been guiding on the Columbia River for over 17 years. We founded the company in 2000.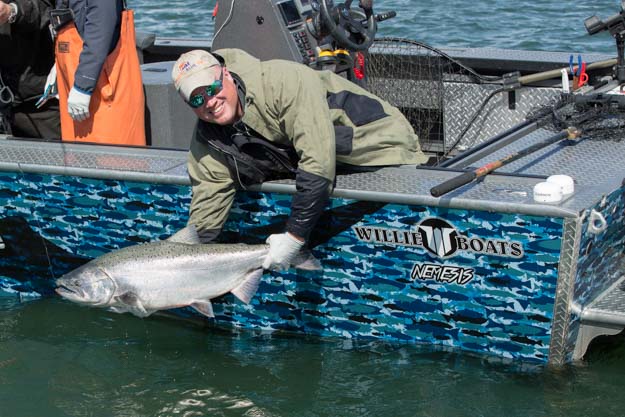 Being licensed guides in Oregon allows us to target Chinook salmon for a large portion of the year! We offer ocean charters for Albacore Tuna, salmon and bottom fish, and Columbia River salmon and sturgeon fishing is always fun and productive!
We work incredibly hard to ensure that your fishing trip is fun and successful (please read our Total Fisherman Philosophy at the bottom of the page).
We want you to have a good time, we want you to have fun, and we really hope you will tell your friends about us.
We're knowledgeable, hard working and dedicated to ensuring that you have the best day possible day on the water!
Give us a call, and talk to us in person, please ask us a lot of questions; you will find that we're personable and knowledgeable about what we do.
Click here "Why book with Total Fisherman?"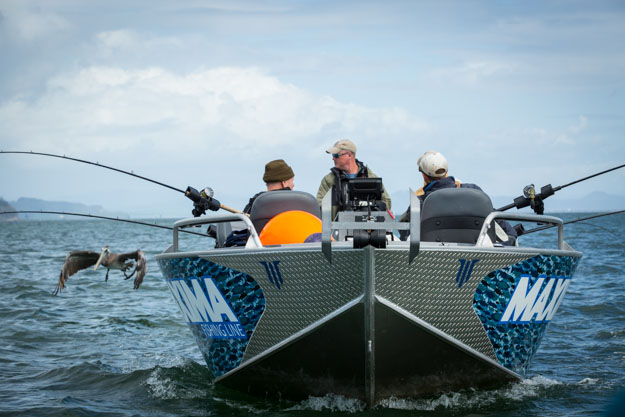 Here are some of the things that our customers had to say about their trip:
Kyle from Portland, Oregon wrote;
"I want to thank you for all your hard work. First thing my dad said was this guy really loves to fish and it shows. The boys said they had fun but it was more obvious how much fun they had when they got home and started talking to their friends. One thing is for sure ..whether the fishing is good or bad I feel you would give 100% and that's all anyone could ask for. For me it was most gratifying to see my boys and dad together catching fish then taking a picture that they will always remember. Not sure when we can get back. We will have to see how things go. I wish you and your family well and hope to see you in the near future."
Thanks, Kyle, Kelly, Kris, Garland
Joel & Faye from Thousand Oaks, California wrote;
"Hi Kevin! We had a blast. We just got back this AM and the trip is still the topic of conversation. I assume my friends and family will tire of the stories well before I tire of telling them... Our experience with Total Fisherman was so rewarding it is one of the brightest spots of our trip... You were the best Guide we could have hoped for, and will for sure make it back (hopefully in early Spring)... In closing I feel like we have known you for decades. Your professional attitude, knowledge of the Columbia, and solid willingness to go the distance, rain or shine glows, in the din of the others who claim to be a "guide". We completely enjoyed our time in your company and on your stunning vessel. You are the fisherman's Fisherman, and the guide's Guide. We would only use the Total Fisherman the next time we are up in that dazzling part of our great country."
Debbie and Terry from Portland, Oregon wrote -
"Kevin - thanks again for the great fishing trip last Saturday. Learned so much from you and caught fish - can't beat that!... Terry & I want to book a steelhead/sturgeon trip with you. We can take a day off during the week - that is probably an easier time to find an open spot in your schedule and also less crowded on the waters. Take care - thanks again for a great day - you really are a Pro and a pleasure to fish with!"
John from Milwaukee, Oregon wrote -
"Hey Kevin, I just wanted to thank you for one hell of a fishing trip! You are my top guide! I just wanted to say, I would have considered it a good trip to bring home a couple of fish but to get 5 was a great surprise! You really know what your doing."
"I brought my daughter and a friend out, we have fished many places and we have caught a lot of fish before, but I've got to tell you we had a blast! Those fish pulled so hard they made our walleye, Northern Pike, bass, and bullheads, feel like nothing, you are the GREATEST.......by the way we appreciate your equipment being top notch, clean , and well maintained! Everything was perfect!"
Thx again,
John, Abby & Laurie
Scott from Aloha, Oregon wrote;
"I wanted to thank Kevin Newell of Total Fisherman Guide Service for one of the best days I have had on the river. I normally take my boat with friends, bait the hooks, drive the boat, anchor the boat, feed the guests, clean up the boat, tow the boat, feed the boat, you know the drill. I have never been on a guided trip, and if you haven't, you owe it to yourself to fish with Kevin Newell. He knows where to fish, how to fish in his huge 24 foot boat!"
Brett from Portland, Oregon wrote;
"Today was the day that I finally got to "cash in" on the fishing trip that Kevin Newell of Total Fishermen Guide service donated for the ifish charity auction benefiting Christmas Toys for kids @ Emanuel Hospital. My wife and I, and a couple of our friends, had a great time right from the start this morning. First off, what a world class guy Kevin is for donating a trip for the kids at Emanuel Hospital through ifish. His heart is in the right place. Next, he has top of the line equipment and a personality to match. If you ever need a guide on the Columbia I can't imagine you'd do any better. I learned a few new tricks today. I could show you other pictures but that wasn't what today was about. It was about the kids and a big hearted guide."
Nice job ifish and nice job Kevin – from old "Hooked on Fish."
Mike from Monroe, Washington wrote;
"Hey Kevin:
Mike Lee Sr. here. Thanks for an awesome time on the river last Sunday. Boys and I had a ball and will be contacting you to book more trips next fall after we get back from Alaska."

Great Job!
--Mike
Below is a letter written by a Total Fisherman customer for the Daily Inter Lake in Kalispell, Montana.
The Daily Inter Lake Kalispell, Montana

Thursday, July 13, 2006

Sturgeon put up quite a fight

Three years ago I had the opportunity to see some video of outstanding sturgeon fishing on the lower Columbia River. That video was taken by Jim Vashro, regional fisheries manager for Montana Fish, Wildlife and Parks.

Jim is an excellent fishery biologist who also practices what he preaches. Like many other Flathead fishermen, he likes to sample fishing in other corners of the Pacific Northwest.

After telling my wife about Jim's video and great sturgeon fishing, she insisted that I go sturgeon fishing. Having never fished for sturgeon before, we decided it was best to hire a guide to show us how to do it. Besides, we saved a lot of gas money by not hauling our boat to the Columbia River.

Last winter we attended a sports show in Seattle and met a young guide named Kevin Newell. Newell runs a one-man fishing guide service. He spends about 200 days a year on the waters of western Oregon and Washington. From May 15 through July, he mainly guides for sturgeon out of Astoria, Ore.

Astoria is where the mighty Columbia River enters the Pacific Ocean. This is a great area for white sturgeon. These prehistoric fish are very long-lived and can grow to more than 15 feet long. Most sturgeon caught by fishermen are 2-4 feet long, with occasional fish up to 7-8 feet. A 9-footer is a real lunker these days. What really surprised me is the strength of these fish. They also will jump like a sailfish.

Our first day of fishing started slowly. Kevin is not a patient guide. If the fish don't bite within 10 to 15 minutes, he's off to a new spot.

Successful sturgeon fishing requires a good knowledge of the tides and river currents. Kevin watches these move­ments like a hawk and will keep moving until these factors are correct.

We fished with heavyweight casting and trolling equipment, braided 60-pound test line and 80-pound leader. Only a single barbless hook is used. This allows for a easy release.

Fishing regulations normally allow the keeping of one sturgeon a day. Keepers must be within a slot length of 45-60 inches.

We used an 8- to 12-ounce lead weight to keep the sand shrimp bait near the bottom.

We fished several spots before all the slats lined up. I caught the first fish and was amazed at its strength. They really fight hard and my fish cleared the water with its first jump. When we finally got it alongside the boat, it was a 49-inch fish, which we released.

The big fish of the day was a 7-footer that ripped off more than 100 yards of line on its first run. We were afraid it would empty the reel, so we disconnected from the anchor and followed the fish downstream. It took 15 minutes to bring the fish alongside the boat for a photo and release.

My wife hooked a 5-foot fish which jumped several times, then slammed into the boat like "Jaws" before coming along­side the boat to be released. As Kevin was working to unhook it, the fish got a second burst of energy and tore away from the boat, nearly taking the rod and reel with it. So I got to land my wife's fish for a second time.

At the end of the first day, we caught about 10 to 12 fish, with 5-, 6- and 7-foot-ers being the big fish of the day.

The next day we were joined by our son, Erik. The second day of fishing was better from the standpoint of catching more than 20 sturgeon, with Erik getting, the biggest a 4- to 5-foot fish.

So if you want to try a different type of fishing, try some sturgeon fishing.
Total Fisherman Guide Service is:
Fully Insured
CPR and First Aid Certified

Coast Guard Certified Merchant Marine Master Licenses #1020462 & #2956414
The Total Fisherman Philosophy
We believe that:
- Spending your life doing something you love is the secret to happiness.
- Attention to detail and being absolutely driven, catches fish and creates success.
- A focused effort catches more fish and bigger fish. Just going through the motions is for other people.
- Spending extra time and effort toward making your day successful is important and makes a difference.
- We believe that cutting corners on expenses and effort isn't something you do, even if nobody else will know.
- We believe we should expect the most from every day on the water and hold ourselves to a higher standard.
- We should give back as much and as often as we possibly can.
- It's our job to act as stewards of the resource and as consummate professionals who know that our actions speak louder then words.
Giving 100% every day is the norm, because Buoy 10 or Estuary sturgeon or whatever season we happen to be in only comes around once a year, and in a few weeks it will be over. Let's be realistic ... every one of us has to have a last day on the water. We never know when that day will come, so we are absolutely going to make every day our best day.
We don't have gimmicks like "Fish Catch Guarantees". We won't tell you that we're catching 50 pound salmon every week, or tell you the fishing is red hot when it's not, or any of the other assorted things that guides tell prospective clients to get them on their boats. We're honest and we have integrity.
We provide high quality fishing trips at the median price for guides in the NW. We could charge more or we could charge less, but we don't want you to come fishing with us because your decision is based on price. We want you to come fishing with us because you think we run a first class operation, that we are going to treat you well, and because we catch fish.
We're not the Dollar Store of fishing guides and we certainly aren't the Four Seasons. Our pricing is middle of the road. We believe in charging enough so that we can use high quality equipment, maintain this equipment, and not have to cut corners. We also believe that charging the average price will hopefully allow you to come back more often.
We really take fishing seriously, it's our passion and we certainly want to catch fish just as much as you do; that's why we go during the best times to the best locations and spend extra time, effort, and money to make your trip the best that it can be. We want you to have a successful trip so you come back fishing with us, we also want to be successful so we maintain our reputation as top notch guides.
We take a lot of pride in our fish catching ability and we do everything in our power to put fish in the box, while at the same time having fun, and keeping you safe.
Our approach to life and to fishing isn't standard, and it would certainly be "easier" for us if we weren't worried about these things, but the easy route and the safe bet aren't what we're after. We care about you and we care about your experience on our boats.
We believe our customers, peers and fellow fishermen know that we hold this philosophy close to our hearts and that they know we are out there every day living it. We believe it's important to not let them down.
Kevin, Lacey, Chris & the whole Total Fisherman crew!
Reports - Seasons - Equipment - Photos - Video
Rates - The Guide - Contact Us - Book a Trip - Why Hire Us?
Oregon Fishing Guides & Charters
Email: info@totalfisherman.com
Phone: 503-501-2424


Offering products, services and emerging technology at affordable prices!
Columbia River Sturgeon Fishing
Kalama River Fishing Guide




Fantasy Charters and Lodging
Knife Outlet - Knives, Kitchen Cutlery, Sharpeners, and more
Agsites.net - Over 36,000 agriculture and outdoor world websites
Fantasy Charters and Lodging - Fish Lake Ontario!
Florida Website Design Lake View Studios cutting edge web design , promotion and Internet programming.
Islamorada flats fishing - Flats Fishing off of Islamorada Florida with Captain Cliff.
Charter Boat Captain - Deep sea fishing charters off of the coast of Islamorada in the Florida Keys
Florida vacation rentals New Edition Resorts Luxury vacation rentals located in Marathon of the Florida Keys
Dry Tortugas National Park Information on hotels, fishing , diving and boating in the Florida Keys
Florida Bass Fishing, information on largemouth bass fishing in Florida.
Adirondacks Information on Fishing , hunting , camping hiking and boating in the Adirondack Mountains
Key West Flats Fishing Information on Flats fishing in the Florida Keys
Florida Keys fishing Fishing Charters aboard the GottGo2. Come enjoy the sun in the Florida Keys
Hudson River Striper fishing Charters Information on fishing in the Hudson River from NYC to Newcomb New York
Aurora Pages is a full service Alaska based website design and marketing firm based in Kenai, Alaska.
Anchorage Alaska Anchorage has a long history of cultural diversity. Anchorage has over 162 parks, including 10 large reserves.
Aurora Pages is a full service Alaska based website design and marketing firm based in Kenai, Alaska.
Alaska RV Rental Camper vans for rent in Alaska.

KenaiFishing.net Fishing Information Site Kenai Fishing provides information about access for the Kenai River in alaska.
Fishguides-Alaska.com Fishing Alaska Fishing Guides - There is good reason for this as the Kenai is the most publicized river in the state mainly due to the excellent accessibility to prime fishing waters, a large base of guide services, and some of the largest runs of world class salmon anywhere on the planet.
Alaska-Outfitters.com Hunting Alaska hunting outfitters includes Alaska hunting guides for big game hunts, caribou hunts, deer hunts, elk hunts, bear hunts, moose hunts, waterfowl hunts, duck and goose hunts, hunting outfitters and hunting guides.
Whale-Watching-Alaska.com Cruise Alaska Whale Watching tours and informational excursions.
CrazyBearLodge.net Lodge - Accomodations Crazy Bear Lodge, Wilderness at the back door, friends at the front. If you are looking for a secluded Kenai Peninsula getaway with extraordinary views, yet remain close to other Kenai Peninsula activities… Crazy Bear Lodge on the Kenai Peninsula is the place to stay!
Kenai-Lodges.com Lodge - Accomodations Kenai Peninsula Lodge and cabin rentals Whether you're planning a get-away for yourself, a vacation for the family, or your company convention, Kenai Peninsula Lodging has lots of affordable lodging to choose from.
Campgrounds-Alaska.com Camping or RV Alaska campgrounds & RV Parks, including BC & Alberta from a twenty two year Alaskan resident.
The Columbia River Fishing Guide
Foxtail Lodge Great Kodiak Alaska Fishing Lodge
Fishing for Neurological Research - George Bayless's World Fishing Information Site
Fishing for the Disabled Angler - A Foundation Dedicated to; helping youth camps, youth fishing programs acquire the equipment they need disabled groups and others acquire state of the art equipment to assist those who need technical assistance. Special emphasis to veterans homes for recreational therapy. Also dedicated to removing lead from the environment involving sport fishing.
Fish El Salvador
Central america´s fish el salvador is an igfa certified tour operator offering all-inclusive deep sea, reef, and inshore fishing packages.
The Fly Fish Dictionary
A comprehensive list of fly fishing terms and acronyms describing knots ( illustrated ), fly patterns, famous fishing beats and much, much more
Fishers Of Men - Lake Erie Ohio Fishing Charters
Fishers of men lake erie fishing charters, fishing guide's, cruises, night fishing, trolling, drifting, casting and more.
http://www.shooflyfishingtackle.com Manufacture of fine quality fishing tackle. Quality hand tied fishing flies, hand turned and airbrushed fishing plugs, custom painted fishing spoons, custom fishing rods, and planer boards. Planer board and downrigger fishing is our speciality. Made in Montana USA
iBeOutdoors.com - It's all about the great outdoors - since 1999
Submit your site to Hot Web Directory
Hunt Fish Camp Wisconsin-Hunting, fishing and camping around North America and the world. 1,820 printable lake maps, public hunting land maps, ATV trails, hiking trails, forests and parks.
Cancun Fishing Net - Deep sea, flats, and flyfishing charters in Cancun and the surrounding areas.
Reel Fishing Tackle - Quality fishing tackle by name brand manufacturers at great prices.
Percy's Flies - Hand Tied quality fishing flies at discount prices. Also bonus deals on Sage fly rods and Temple Fork Fly Rods.
Islamorada fishing charters in Florida Keys with Capt. Rick Killgore: Tarpon fishing, offshore fishing, and back country fishing. Offshore fishing for: sailfish, swordfish, dolphin fish (Mahi Mahi), blue marlin, big snapper, big grouper, tuna, wahoo, barracuda, and big sharks. Back country fishing for: bonefish, permit, snook, redfish, sea trout, barracudas, and sharks.
SEA-EX Angling, Fishing, Marine, Boats & Diving- Information and marketing portal for fishing, angling, aquaculture, diving, boating, yachts and yachting and marine industries. Game Fishing, Sports Fishing, Fly Fishing, and diving.


Billygans Roadhouse - Perfect Restaurant in Vancouver for Lunch! - http://www.billygansroadhouse.com Looking for a restaurant in Vancouver for lunch. Billygans Roadhouse restaurant has steaks, burgers, chicken, and ribs. Come try us today and bring the kids!