Columbia River sturgeon fishing!
Total Fisherman Guide Service specializes in Columbia River sturgeon fishing! Kevin is a full time Columbia River fishing guide and one of the best sturgeon guides in the Northwest!

If you're looking for a Columbia River sturgeon guide then you want to go with someone that is going to treat you well and catches a lot of fish, so please look at these pages to see our pictures. Kevin's catch rate is in the top 5% for fishing guides on the Columbia River:

Reports 2009 & 2008 or the Sturgeon Section of our Photos Page

If you're looking for sturgeon fishing information, then you will want to check out my other pages:
Come join Kevin Newell on a world class sturgeon fishing trip! Columbia River sturgeon are the largest and hardest fighting fish in the Northwest and they offer anglers some of the best fishing to be found anywhere in the world! 15-30 fish caught per day is average aboard my boat with some days doubling that!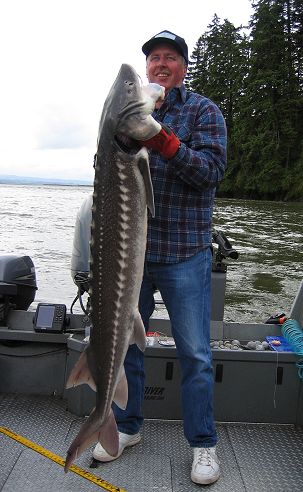 Kevin says, "Being a great sturgeon fishing guide isn't about luck, it's about finding the fish. We keep moving until we get into them, I've been known to pull anchor and move up to 20 times in a day to find fish but it pays off! The other key is having good fresh bait and lots of it! We use sand shrimp, fresh anchovies, smelt and a lot of other baits to entice these fish to bite. If you don't have enough good quality bait you may have to buy your fish at the grocery store!"
"There is more to a guided trip than just putting fish in the boat. Having a good time out fishing is what it's all about. It's not extra work to have a good time. We have a lot of fun on my boat and that's why my customers keep coming back. The day guiding becomes a job and isn't fun any more is the day I go find something else to do for a living. It's not just about catching fish ... but fortunately I'm very good at that as well!"
Kevin likes to have fun and he will work hard to get you into fish! He is very focused on the customer experience and making sure you get a trip that is fun and memorable!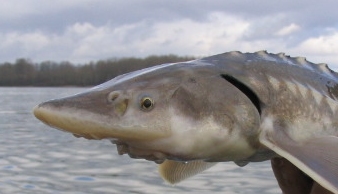 A baby sturgeon up close!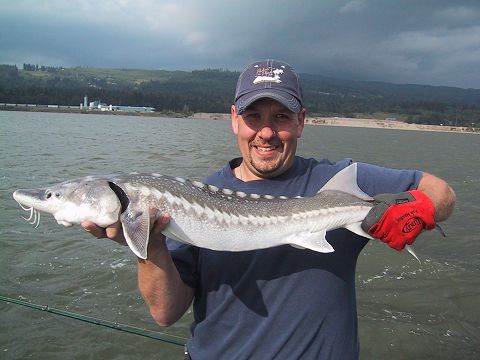 A common shaker sized sturgeon!
"Shaker" sturgeon are fish that measure less than 42". We catch shakers all day long! Shakers in the 30-40" inch range are very common, fight hard and are what make sturgeon fishing so much fun!
Constant action is the thrill of sturgeon fishing and during a hot bite it is common for all 4 or 5 rods to be getting worked at the same time! The tap-tap-tap of a sturgeon bite may look like a trout, but wait a couple more seconds and there will be no doubt in your mind that it definitely isn't a trout on the other end of your line!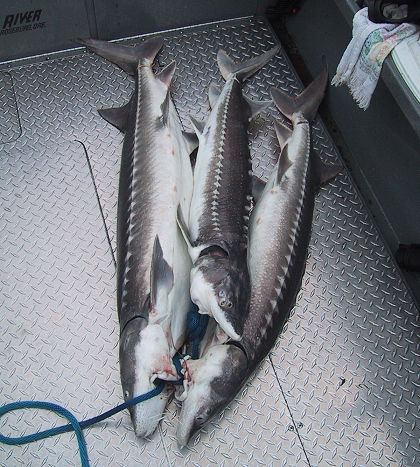 A nice haul of keeper Columbia River estuary sturgeon taken near Astoria! A 47", 52" and 57" fish!
Sturgeon 42" - 60" in length are considered "keepers". 42"-60" is the length the fish need to be in order to be legally kept. A 42" fish weighs around 20 pounds and a 60" fish weighs over 60 pounds! If you take home a couple of these guys you had better make room in the freezer because they fill it up quick!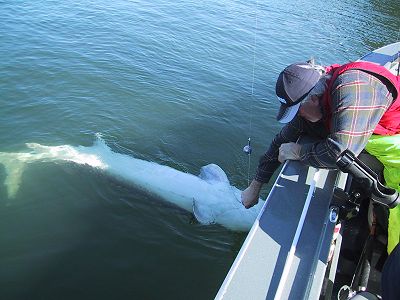 An 8 foot oversize caught near Bonneville Dam on the Columbia!
"Oversize" sturgeon are the big boys! The ones that measure over 60" in length! You had better bring your Gatorade and Bengay because these fish will work you like a job! Fighting an oversize sturgeon on stand up gear is like using a fishing pole and reel to stop a Volkswagen as it's going 60 mph down the freeway ... at least for the first 20 minutes anyway! Oversize sturgeon average 6-14 feet in length, and behemoths of 18-20 feet do exist but are never landed due to their massive size. These fish will break rods, smoke reels and leave you standing there with a "what in the hell just took 300 yards of line and never even slowed down" look on your face! Fighting these fish isn't for everyone, but once you have you will never forget it!
Seasons
Sturgeon can be caught all year long but there are times and areas that are definitely better than others.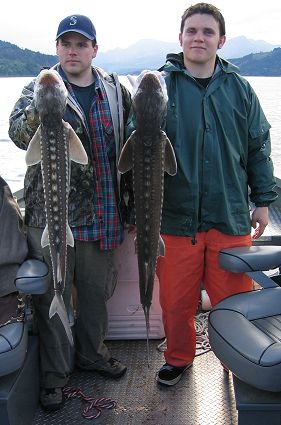 A 43 and a 45" sturgeon! These fish couldn't resist smelt that were injected with a little "secret sauce"!
February and March marks the beginning of sturgeon fishing season. Smelt have started to enter the Columbia and the sturgeon key in on these small fish as a major food source. In February and March we fish for Sturgeon in the Columbia from Longview to Bonneville Dam and also in the Willamette River.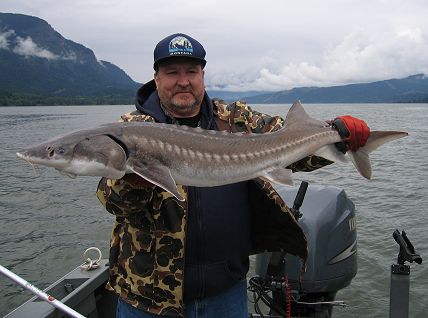 A nice keeper caught in the Columbia River Gorge, May 2005!
April - June is when the water in the Columbia River starts to warm up and the shad start running. Sturgeon begin to migrate farther up the Columbia. They are following the shad and also heading to their spawning habitat below Bonneville Dam. After spending a long winter on a low-cal diet the fish become voracious feeders as soon as the water starts to warm!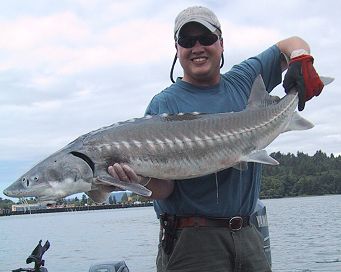 A 55" Columbia River estuary sturgeon taken near Tongue Point in 20' of water!
May - early July means it's time for sturgeon fishing in the Columbia River estuary to begin! The estuary is the area of the lower Columbia River near Astoria Oregon. This is in my opinion the best sturgeon fishing of the whole year. There are other times and areas that produce just as many fish but nothing can beat the beauty of fishing in the estuary using light tackle for ocean fresh sturgeon! Often times we are catching these fish in six or seven feet of water, and when they are hooked they have only one way to go and that is up! Jumping sturgeon are a site to see! Not unlike a marlin they will "tail walk" on top of the water trying to shake the hook! Very high numbers of fish, lots of keepers and beautiful surroundings make fishing around Astoria my personal favorite.