Sturgeon fishing with pro Columbia River sturgeon fishing guides Kevin Newell & Lacey DeWeert!
5 reasons to go White Sturgeon Fishing:

Catch the largest species of freshwater fish in North America!


Sturgeon fight hard! They run line off of the reel and jump, coming completely out of the water! These are definitely the strongest freshwater fish in the NW.


Sturgeon fishing trips are very productive. It's common for us to catch 15 to 30 sturgeon per day or more!


Keeper sturgeon average 47 to 55 inches in length and oversize fish over 5 feet happen all the time!


Sturgeon are easy to cook. They are boneless with sizable fillets and they taste great!

Sturgeon fishing on the Columbia River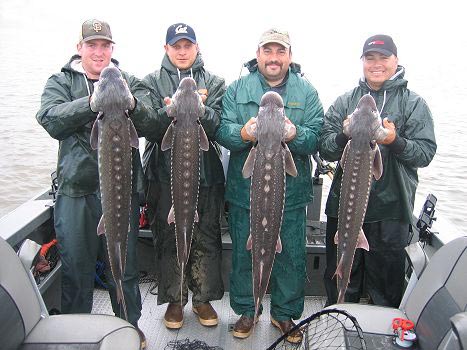 Sturgeon fishing near Astoria, Oregon!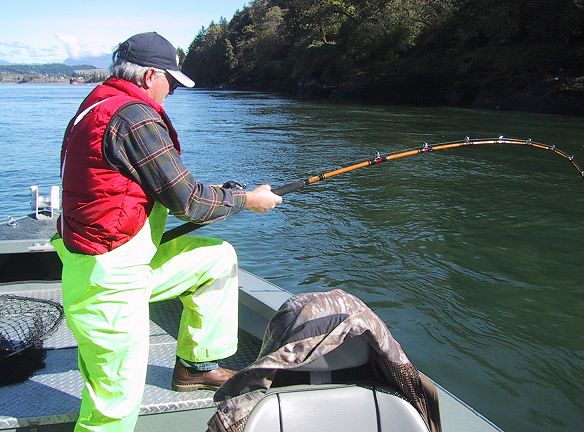 Battling a ten foot sturgeon near Bonneville Dam!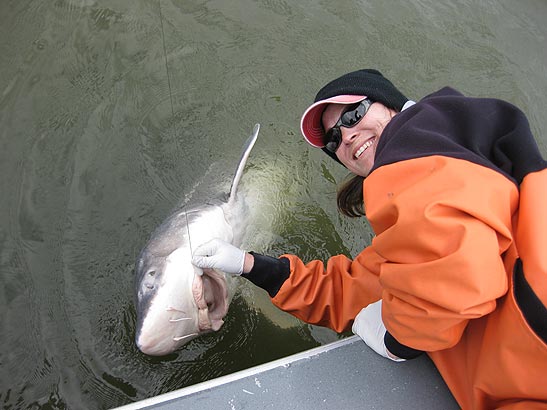 Pro Sturgeon Fishing Guide Lacey DeWeert with a BIG oversize sturgeon!
Sturgeon fishing on the Columbia River is hands down one of the greatest freshwater fishing experiences in the world! Anglers come from all over the nation and from all over the world to catch the Columbia River's White Sturgeon!
Having a great day of sturgeon catching goes hand in hand with having a great fishing guide who is knowledgeable about the fishery and is motivated to work hard to get you into the sturgeon and to keep you there. Knowing with a guide that knows sturgeon's behavioral patterns is a must if you want to have the best day possible.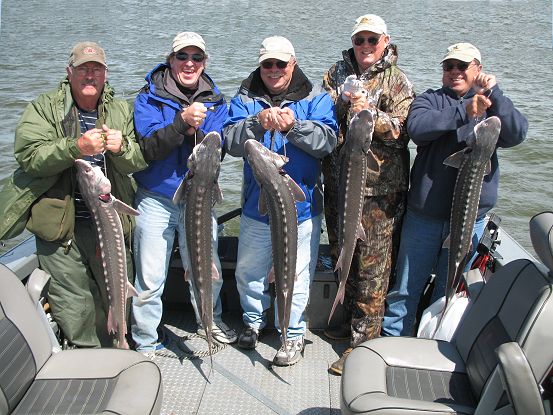 Keeper sturgeon landed on the Columbia near Astoria Oregon!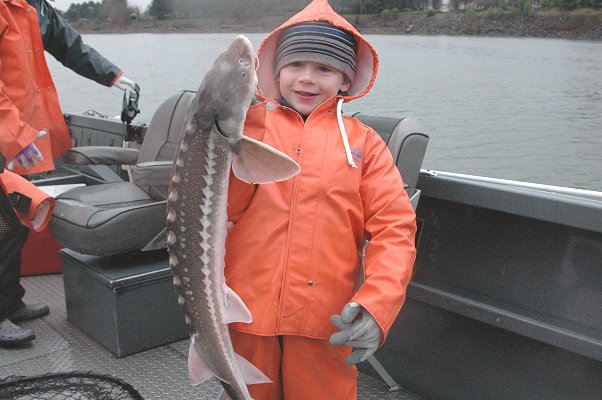 Master sturgeon fisherman Troy Schmidt with a 2-3 year old White Sturgeon.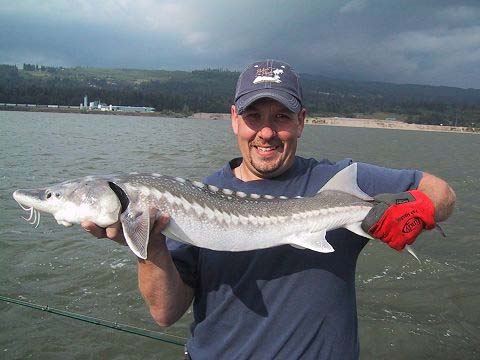 An undersized "shaker" sturgeon!
"Shakers" are sturgeon that are less than 44" (measured to the fork of the tail) in length. As you can see from the picture, even sub-legal or sturgeon that are "too short" are still big and definitely put up a good fight. Catching a large number of fish in this size range, plus keepers and oversize sturgeon is what makes a sturgeon fishing trip such a great experience!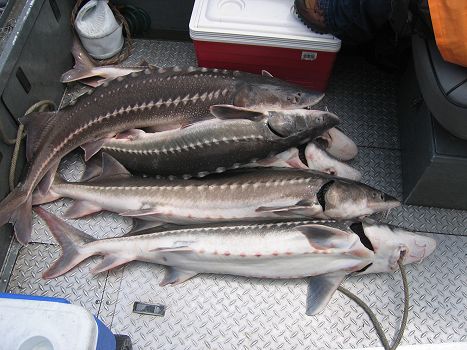 Six keepers caught in the Columbia River estuary near Astoria!
"Keeper" sturgeon are fish that measure 44" - 50" from the fork of the tail to the tip of their nose. A 44 inch fish is going to weigh approximately 32 pounds and 50 inch fish can weigh over 42 pounds! Your sturgeon are all going to be filleted, but make sure you bring a big cooler because four to six filleted out sturgeon provide a lot of meat!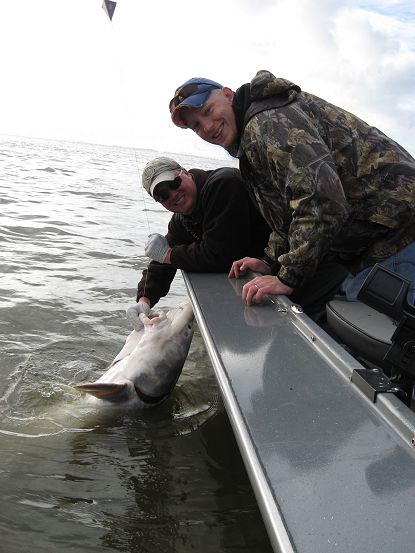 A seven to eight foot sturgeon caught on the lower Columbia!
Sturgeon measuring over five feet in length are truly giant fish! These fish can weigh over 1000 pounds and attain lengths over twenty feet! These huge fish are called "oversize sturgeon" because they are longer than the length you are allowed to keep. When you are battling one of these bruisers you're going to know it! Oversize average 5 to 10 feet in length with an occasional fishing being larger than this.
Hooking one of these beasts and seeing them jump and completely clear the water is an amazing site, enjoy it ... because your in for a 20 to 60 minute battle of wills that will test the endurance of the most seasoned angler!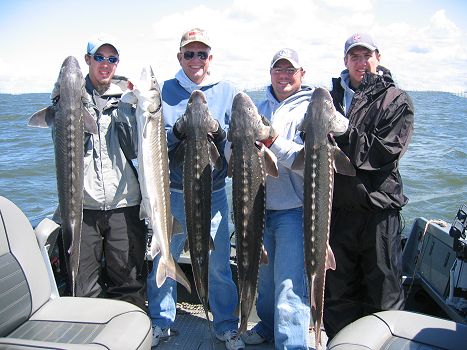 Happy sturgeon fishermen from Vernal, Utah; with a nice haul of keepers!
Sturgeon Fishing Seasons
White Sturgeon can be caught throughout the year and our catch and release sturgeon fishing is really incredible. However if you want to keep a sturgeon, then there are specific seasons and locations that we fish for them.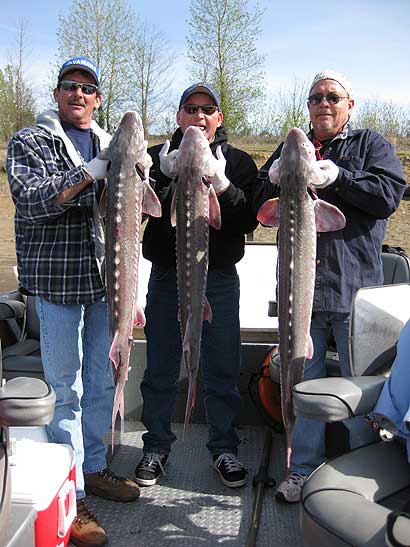 Willamette River Sturgeon fishing! These three keepers couldn't stay away from our really high quality smelt!
January, February and March is the beginning of our sturgeon season and during this time you will find us on the Willamette River in Portland, Oregon. This is a fantastic fishery with one of the highest catch rates of the year.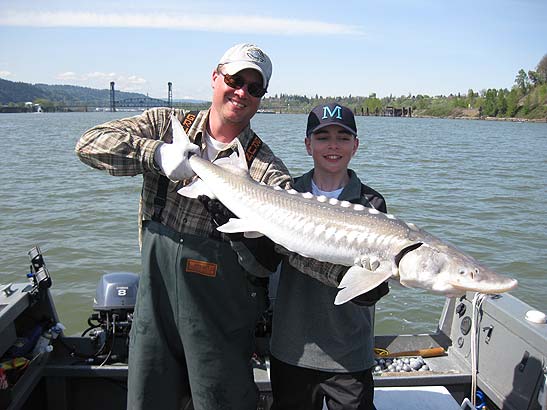 Kevin and a happy customer with a really nice keeper sturgeon caught on the Willamette River!
April - May is when the Columbia Rivers' temperature begins to rise and the sturgeon leave the Willamette to migrate downstream to Astoria to meet the arrival of the huge schools of achovy and shad that are going to enter the river in late spring and summer. We know the perfect locations to intercept them when they are making this migration.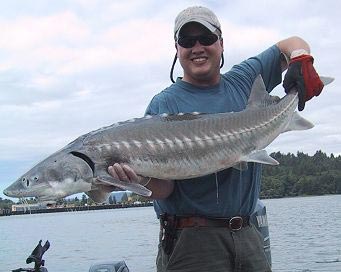 Kevin with a 54" sturgeon caught in the Columbia River estuary in eight feet of water!
May, June & July is when it's time to head to the lower Columbia River near Astoria, Oregon to catch the huge numbers of White Sturgeon that come in from the ocean to feed on the abundance of food that spends the summer in the Columbia River Estuary.
Fishing in the estuaries shallow tidal flats and catching HOT sturgeon in 6 to 8 feet of water on light tackle is a blast! We use anchovies and sand shrimp for our sturgeon bait during this time and these fish just jump all over it!
Large numbers of keeper sized fish, an average of five to ten+ oversize fish a day, great weather and beautiful surroundings make this a very popular trip. EST.

Total Fisherman Philosophy

2000
We believe that:
Spending your life doing something you love is the secret to happiness.
Attention to detail and being absolutely driven, catches fish and creates success.
A focused effort catches more fish and bigger fish. Just going through the motions is for other people.
Spending extra time and effort toward making your day successful is important and makes a difference.
We believe that cutting corners on expenses and effort isn't something you do, even if nobody else will know.
We believe we should expect the most from every day on the water and hold ourselves to a higher standard.
We should give back as much and as often as we possibly can.
It's our job to act as stewards of the resource and as consummate professionals who know that our actions speak louder then words.
Giving 100% every day is the norm, because Buoy 10 or Estuary sturgeon or whatever season we happen to be in only comes around once a year, and in a few weeks it will be over. Let's be realistic ... every one of us has to have a last day on the water. We never know when that day will come, so we are absolutely going to make every day our best day.
We don't have gimmicks like "Fish Catch Guarantees". We won't tell you that we're catching 50 pound salmon every week, or tell you the fishing is red hot when it's not, or any of the other assorted things that guides tell prospective clients to get them on their boats. We're honest and we have integrity.
We provide high quality fishing trips at the median price for guides in the NW. We could charge more or we could charge less, but we don't want you to come fishing with us because your decision is based on price. We want you to come fishing with us because you think we run a first class operation, that we are going to treat you well, and because we catch fish.
We're not the Dollar Store of fishing guides and we certainly aren't the Four Seasons. Our pricing is middle of the road. We believe in charging enough so that we can use high quality equipment, maintain this equipment, and not have to cut corners. We also believe that charging the average price will hopefully allow you to come back more often.
We really take fishing seriously, it's our passion and we certainly want to catch fish just as much as you do; that's why we go during the best times to the best locations and spend extra time, effort, and money to make your trip the best that it can be. We want you to have a successful trip so you come back fishing with us, we also want to be successful so we maintain our reputation as top notch guides.
We take a lot of pride in our fish catching ability and we do everything in our power to put fish in the box, while at the same time having fun, and keeping you safe.
Our approach to life and to fishing isn't standard, and it would certainly be "easier" for us if we weren't worried about these things, but the easy route and the safe bet aren't what we're after. We care about you and we care about your experience on our boats.
We believe our customers, peers and fellow fishermen know that we hold this philosophy close to our hearts and that they know we are out there every day living it. We believe it's important to not let them down.
Kevin, Lacey, Chris & the whole Total Fisherman crew!
Kevin Newell & Lacey DeWeert - Team Total Fisherman