We specialize in Astoria fishing charters, during the Astoria area's prime fishing months which are from May into October. Astoria Oregon charter fishing is absolutely phenomenal with a variety of species of fish available to target! We are close to the Seaside, Cannon Beach and Ilwaco areas.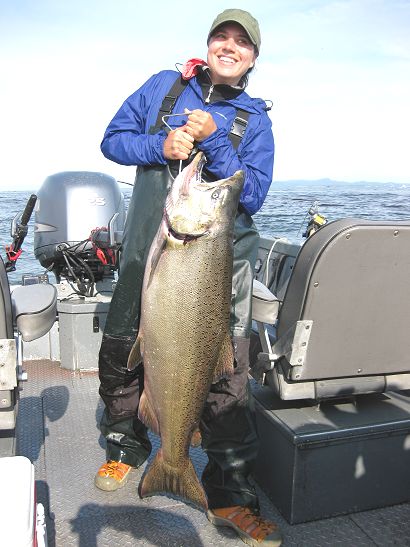 One of the reasons that the Astoria area provides such consistent fishing success is because of it's close proximity to both the waters of the Pacific Ocean and the Columbia River.
The ocean provides fantastic offshore fishing for salmon, bottom fish and crabbing and the Columbia River provides equally great inshore fishing for salmon and sturgeon!
Folks visiting the Seaside, Oregon area as well as Long Beach or Ilwaco, Washington are both very close to the great fishing we have out of Astoria.
Astoria Charter Fishing Seasons
The best time to go charter fishing in any area is always going to be when the fish are there and Astoria, Oregon is no different. When you go with us out of Astoria, you are going to be fishing some of the best waters on the Oregon coast during the peak of the season! Oregon Coast charter fishing at it's finest!
Astoria Sturgeon Fishing Charters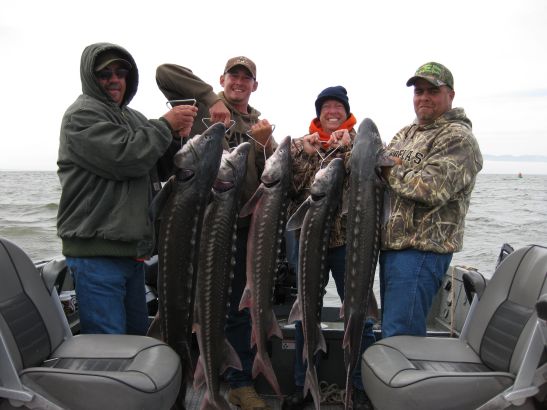 Our first Astoria fishing season is for White Sturgeon. These huge sturgeon migrate to Astoria from both the ocean and from upriver during early May, the fishing really starts to take off during mid May with the peak of the season being June and July.
All of our Astoria sturgeon fishing takes place in the calm inshore waters of the Columbia River, we don't have to go to the ocean to catch sturgeon.
The sturgeon that we catch on the lower Columbia near Astoria are often called estuary sturgeon. The Columbia River Estuary is the lower 35 miles of the Columbia River and this is the location where the sturgeon concentrate in heavy numbers during the late spring and summer. The heavy concentrations of bait fish, clams, shrimp and other food sources make this an ideal location for the sturgeon to really feed heavily and the fish put on a lot of weight during the time that they are here!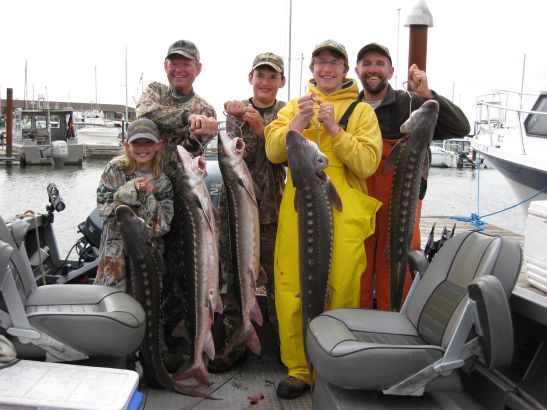 Going on an Oregon fishing charter out of Astoria, for sturgeon means you are going to be fishing on trophy sturgeon waters for some of the largest and most aggressive sturgeon in the world!
Astoria keeper sturgeon, like all Columbia River sturgeon, must fit within a certain size bracket in order for them to be retained. The fish are measured from the tip of their nose to the fork of their tail, and if they measure within the legal size range then retention is allowed. If they are larger or smaller than this, they must be released. An Astoria keeper sturgeon will typically weigh between 22 and 50 pounds!
Astoria Salmon Fishing Charters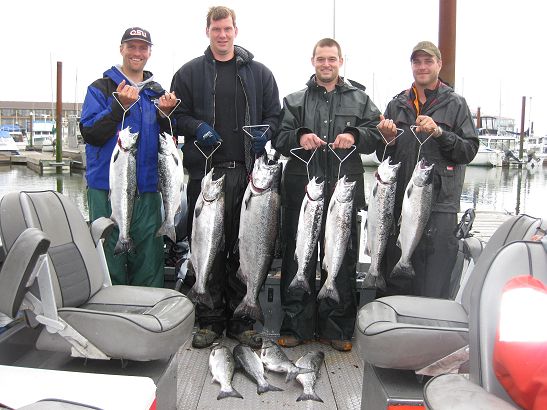 Our Astoria salmon fishing charters start in early July and go until mid October. The first part of our season from early July to mid August, is in the ocean catching Chinook and Coho salmon. During this time the salmon are staging off of the Oregon Coast in large numbers before they begin their migration into the Columbia and other rivers starting in August.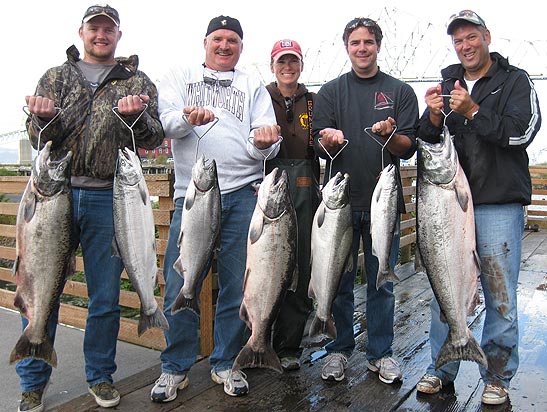 The second half of the Astoria salmon season occurs in the Columbia River. Chinook Salmon start entering the river in early August and the peak of the run in Astoria begins in mid August, this is also when the Coho Salmon start entering the river in large numbers!
The Chinook/Coho season lasts until the end of August and then after that we are catching just Coho along with some really nice bottom fish and Dungeness Crab!
Astoria Bottom Fishing Charters
Bottom fishing in Astoria can be excellent.  We have several species that we fish for including: Lingcod, Black & Blue Sea Bass, Cabezon, Kelp Greenling, Canary Rockfish, Vermillion Rockfish, Copper Rockfish, China Rockfish & Quillback Rockfish.  We even catch an occasional halibut!

There are two areas that are available for bottom fishing out of Astoria, the first being the jetty and the second being the area near Tillamook Head and south of there. We don't fish the jetty.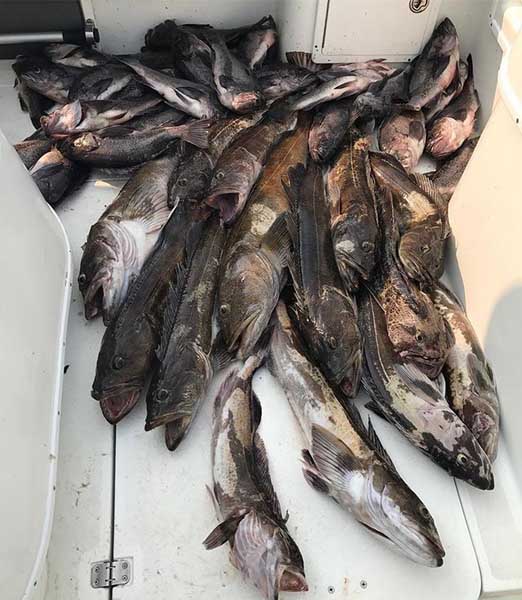 We spend the extra time and fuel to run south to the great bottom fishing spots. Our goal is to take you on a trip that is world class, meaning great fishing with great scenery and as few other anglers as possible which is why we don't fish the jetty.

The jetty is where everyone with a boat longer than 16 feet goes to fish, which means it's crowded and overfished.  It's also snaggy because of the hard currents, which is super frustrating for most anglers.  The jetty is the second-class bottom fishing spot and we don't even waste our time there.  It's a spot for the locals in little boats as well as the boats that just don't have the range to get to the good water.

Spending a little extra time running to better spots makes all the difference in the world!

This is one of our favorite fishing trips, because of the high catch rate, variety of species and never knowing what you may reel up!
We use the best equipment and boats available and all of your fish will be filleted and vacuum packed as part of your trip.



Please make sure you check out all of our web site to see the incredible fishing trips that we provide, and please don't hesitate to call us with any questions that you may have. We love talking fishing!
Lacey & Kevin - Total Fisherman EST.

Total Fisherman Philosophy

2000
We believe that:
Spending your life doing something you love is the secret to happiness.
Attention to detail and being absolutely driven, catches fish and creates success.
A focused effort catches more fish and bigger fish. Just going through the motions is for other people.
Spending extra time and effort toward making your day successful is important and makes a difference.
We believe that cutting corners on expenses and effort isn't something you do, even if nobody else will know.
We believe we should expect the most from every day on the water and hold ourselves to a higher standard.
We should give back as much and as often as we possibly can.
It's our job to act as stewards of the resource and as consummate professionals who know that our actions speak louder then words.
Giving 100% every day is the norm, because Buoy 10 or Estuary sturgeon or whatever season we happen to be in only comes around once a year, and in a few weeks it will be over. Let's be realistic ... every one of us has to have a last day on the water. We never know when that day will come, so we are absolutely going to make every day our best day.
We don't have gimmicks like "Fish Catch Guarantees". We won't tell you that we're catching 50 pound salmon every week, or tell you the fishing is red hot when it's not, or any of the other assorted things that guides tell prospective clients to get them on their boats. We're honest and we have integrity.
We provide high quality fishing trips at the median price for guides in the NW. We could charge more or we could charge less, but we don't want you to come fishing with us because your decision is based on price. We want you to come fishing with us because you think we run a first class operation, that we are going to treat you well, and because we catch fish.
We're not the Dollar Store of fishing guides and we certainly aren't the Four Seasons. Our pricing is middle of the road. We believe in charging enough so that we can use high quality equipment, maintain this equipment, and not have to cut corners. We also believe that charging the average price will hopefully allow you to come back more often.
We really take fishing seriously, it's our passion and we certainly want to catch fish just as much as you do; that's why we go during the best times to the best locations and spend extra time, effort, and money to make your trip the best that it can be. We want you to have a successful trip so you come back fishing with us, we also want to be successful so we maintain our reputation as top notch guides.
We take a lot of pride in our fish catching ability and we do everything in our power to put fish in the box, while at the same time having fun, and keeping you safe.
Our approach to life and to fishing isn't standard, and it would certainly be "easier" for us if we weren't worried about these things, but the easy route and the safe bet aren't what we're after. We care about you and we care about your experience on our boats.
We believe our customers, peers and fellow fishermen know that we hold this philosophy close to our hearts and that they know we are out there every day living it. We believe it's important to not let them down.
Kevin, Lacey, Chris & the whole Total Fisherman crew!
Kevin Newell & Lacey DeWeert - Team Total Fisherman