Jesus Fish – Symbol, meaning and products.
Posted on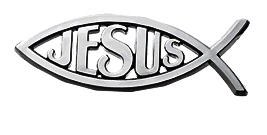 The Jesus Fish symbol is commonly seen on vehicles.
This Christian symbol is also known as Ichthys in Greek it's ????? which is an acronym for:
? – Jesus
? – Christ
? – of God
? – Son
? – Savior
It's not known when the Jesus Fish symbol first entered use by Christians but it has been displayed as a symbol of Christianity since the early days of the church.
It is widely known that several of Jesus' twelve apostles were fishermen and that there is a recurring theme in the Bible of fishing and fish being related to abundance and being forthright and honest.
Variations of the orginal design have appeared showing the person displaying the symbols, own personal theologic or evolutionary beliefs.